Bodega Bay overview

Overview: Bodega Bay is perhaps the single most productive birding area in Sonoma County. It is recognized nationwide and internationally as an important birding spot. Located along Pacific Coast migration routes, it is an excellent place to see migrants in spring and fall, but it offers excellent birding throughout the year.

Location aliases
: There are numerous established spots in the Bodega Bay area with various nicknames used by local birders. See below for specific bird-rich spots.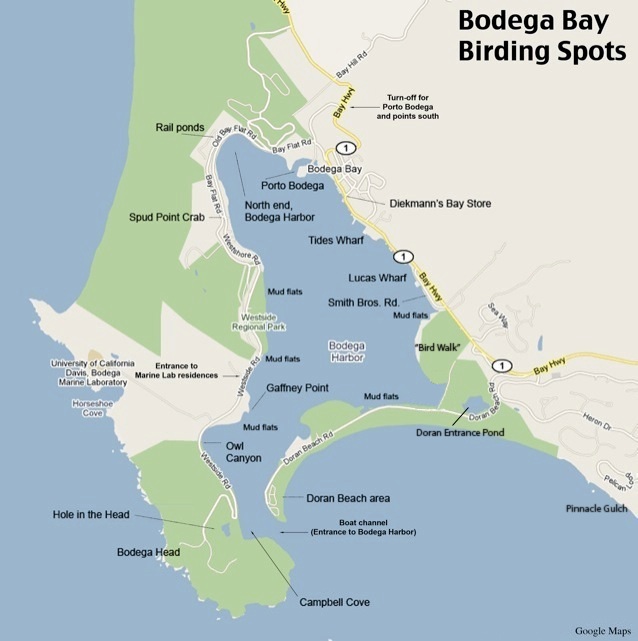 ©2011 Google - Map data ©2011 Google

Locations

  Bodega Bay: Diekmann's Bay Store

  Bodega Bay: Doran Regional Park (Doran Beach)

  Bodega Bay: Bird Walk (near Doran Beach)

  Bodega Bay: The Hole in the Head

  Bodega Bay: North end of Harbor

  Bodega Bay: Spud Point Crab Co.

  Bodega Bay: Smith Brothers Road 

  Slightly further afield:

  Salmon Creek (off map, 1.5 miles north of the town of Bodega Bay)

  Chanselor Ranch (See Salmon Creek)

Access: See overview map and maps on pages for each location.

Tide information: See the NOAA Tides & Currents page for Bodega Harbor

More tide information at TidesChart:

Habitats: The areas listed above include a wide range of habitats, including residential neighborhoods, tide-influenced ponds, ocean shoreline, tidal mud flats, coastal cliffs, coastal scrub, and coastal woods. For details, see individual pages for the various locations above. 

Typical species

•Mostly pelagic species: Private tours can be arranged. A number of tour companies, such as Shearwater Journeys, organize regular tours to bird-rich offshore spots. Local ornithological societies also schedule trips. Typical species include: Black-footed Albatross, Northern Fulmar, Buller's Shearwater, Pink-footed Shearwater, Sooty Shearwater, Ashy Storm-petrel, Black Storm-petrel, Brandt's Cormorant, Pelagic Cormorant, Red-necked Phalarope, Red Phalarope, Pomarine Jaeger, Parasitic Jaeger, Long-tailed Jaeger, Heermann's Gull, Western Gull, California Gull, Elegant Tern, Common Murre, Pigeon Guillemot, Cassin's Auklet, Rhinoceros Auklet, Tufted Puffin. Many other less common species have been sighted.

•Offshore and along the shore: Pacific Loon, Common Loon, Red-throated Loon, Pied-billed Grebe, Western Grebe, Clark's Grebe, Eared Grebe, Horned Grebe, Red-necked Grebe, American Coot, American White Pelican, Brown Pelican, Brandt's Cormorant, Pelagic Cormorant, Double-crested Cormorant, Black Oystercatcher, Great Blue Heron, Snowy Egret, Great Egret, Black-crowned Night Heron, Greater Scaup, Lesser Scaup, Surf Scoter, White-winged Scoter, Black Scoter, Marbled Murrelet, Bufflehead, Common Goldeneye, Ruddy Duck, Bonaparte's Gull, Heermann's Gull, Ring-billed Gull, California Gull, Western Gull, Glaucous-winged Gull, Caspian Tern, Elegant Tern, Forster's Tern, Osprey, Northern Harrier, Sharp-shinned Hawk, Cooper's Hawk, Red-tailed Hawk.

•On (and over) tidal mudflats: American White Pelican, Great Blue Heron, Snowy Egret, Great Egret, Black-bellied Plover, Snowy Plover, Semi-palmated Plover, Killdeer, Willet, Whimbrel, Marbled Godwit, Ruddy Turnstone, Black Turnstone, Sanderling, Western Sandpiper, Least Sandpiper, Dunlin, Short-billed Dowitcher, Bonaparte's Gull, Heermann's Gull, Ring-billed Gull, California Gull, Western Gull, Glaucous-winged Gull, Caspian Tern, Elegant Tern, Forster's Tern. Less common but regularly sighted birds include: Red Knot, Surfbird, Wandering Tatler, and Pectoral Sandpiper.

•Inland scrub along the shore: Oak Titmouse, Chestnut-backed Chickadee, Scrub Jay, American Crow, House Finch, Dark-eyed Junco, American Goldfinch, Lesser Goldfinch, Orange-crowned warbler, Yellow Warbler, Black Phoebe, California Towhee, Spotted Towhee, Downy Woodpecker, White-crowned Sparrow, Golden-crowned Sparrow, Fox Sparrow, Turkey Vulture, Osprey, Northern Harrier, Sharp-shinned Hawk, Cooper's Hawk, Red-tailed Hawk.

Related bird watching spots: Further to the north are various other coastal birding spots in Sonoma County (including Duncan's Landing and Jenner/Mouth of the Russian River) and beyond, in Mendocino County. To the south, along Highway 1, lies Point Reyes and associated areas, in Marin County. See also the Bodega Farm Pond. For areas inland from Bodega Bay, to the east, see Sebastopol area listings on the front page.

Unusual birds, sightings: See individual pages for the various locations listed

Restroom facilities: See individual pages for the various locations listed

Restaurants Nearby (some closed Wednesdays)

(This is Pre-COVID-19 information. Much will have changed)

•        The Birds Café is a newer (summer 2013) addition to the Bodega dining scene. N. Highway 1, Bodega Bay, CA (875-2900)--right next to The Boat House (immediately below).


•        Fish and chips at The Boat House at 1445 N. Highway 1, Bodega Bay, CA (875-3495) can be excellent. Varied menu.


•        Fishetarian Market & Deli at 599 Highway 1, Bodega Bay (875-8881). Fish and chips, chowder, and other fare is convenient at Lucas Wharf.


•The Tides Wharf Restaurant at 835 S. Highway 1 (875-3652), is probably the easiest large restaurant in the area, with good views over the water (bring your binoculars in), but given the location and access to fresh seafood, the food ought to be better than it is. It's always reliable, but never very exciting. The chowder here is so-so.


• The Sandpiper is similar to The Tides, and rather pricey. The Sandpiper used to be near the dilapidated pier at Porto Bodega but moved in early 2010 to 1400 N. Highway 1 (875-2933) in the Pelican Plaza shopping center (a sharp right turn off Highway 1 if you're headed north near the left-hand turn down to Porto Bodega). Not great food, but certainly decent--but skip the awful, pasty, overly-salty clam chowder. 


• The Spud Point Crab Co. at 1860 Westshore Rd. (875-9472) in my view has the best clam chowder in the area, and it's a quick lunch if you're in a hurry to get back to birding. It's also one of the few (the only?) places in the area that serves red or Manhattan-style clam chowder as well as the white or New England-style chowder. Good garlic bite and plenty of clams. The crab cakes (available only on Saturday afternoons) are famous. No longer closed Wednesdays.


•        Fisherman's Cove at 1850 Bay Flat Rd. (377-4238) is a new addition (autumn 2012). Right next to Spud Point Crab Co. (above, although the official addresses of the two places might make it seem that they are far separated). Open Wednesdays, when Spud Point Crab Co. and many other restaurants in the area are closed. Has sandwiches, oysters, Portugeuse seafood soup (lots of vegetables and sausage along with the seafood), snack foods.  


•Diekmann's Bay Store at 1275 Highway 1 (875 3517) is known for its pizzas and other similar fast foods.


•Terrapin Creek Café is one of my favorites, and one that deserves support. It's at 1580 Eastshore Rd. (875-2700). Open Excellent, upscale food at reasonable prices, for when you want to relax and take a little more time to enjoy something special. Note that this restaurant received a Michelin star in late 2011. Hope the prices don't go up.... Thursday through Sunday, such and dinner.


•Gourmet au Bay, right next to the Tides wharf is a good little wine bar and wine shop. You can sit and sip and watch birds from the windows, which overlook the same area as the Tides parking lot. Wines purchased here come with free corkage at some local restaurants. 

Nearby attractions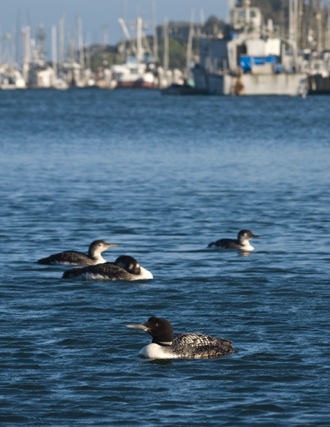 Besides the scenery and (of course) bird watching, the
Bodega Bay area
offers camping, fishing, hiking, and various other seashore activities, such as diving and surfing, but the waters here are generally NOT good for swimming. The water is too cold even in the summer and many of the beaches fall off to deep water quickly, have strong undertow or rip currents and can be subject to "sleeper waves," sudden large waves that seem to come from nowhere. Probably the safest beaches are at Campbell Cove and Doran Beach, especially if you have small children with you.

Bodega Head is a favored spot for whale watching in the winter months.

The Bodega Marine Lab (formally known as the UC Davis Bodega Marine Laboratory) is normally closed to the public. It is, however, occasionally open for tours Fridays (with some exceptions) between 2:00PM and 4:00PM (for groups of less than ten). See the Lab's Website for details.

Golfing at various courses in the area. Golf Link has a good list of places to play.

The nearby town of Bodega (zip code 95465 will take you there using a GPS unit), as opposed to the town of Bodega Bay (94923), has small shops offering art, antiques, local crafts, and the like. Also in the town of Bodega you can see St. Teresa of Avila Church, noted for its age (built by local shipbuilders in 1859) and famously photographed by Ansel Adams (1953). It also appears in Alfred Hitchcock's The Birds. Hitchcock is said to have attended services there during the filming. Next door to the church is the schoolhouse that appears in the film. Driving into Bodega Bay from the east (from Sebastopol) will give you the view over the countryside that opens the film. Most other locations used in The Birds have been obscured by time and development, but The Tides Wharf Restaurant is approximately the location of scenes filmed in town. Note that in the film, the two towns of Bodega and Bodega Bay have been compressed into one. Tippi Hedren, star of the film, makes occasional appearances at The Tides to this day.

The nearby towns of Freestone and Occidental have shops good for browsing.

On the road (Bohemian Highway) into Bodega and Bodega Bay from Sebastopol to the east, look for signs to Wild Flour Bread Bakery, an excellent place to pick up scones and coffee or buy bread. Hours are somewhat irregular. Closed Tuesday and Wednesday. Best to call in advance. At 140 Bohemian Highway, Freestone, CA, 95472 (874-2938). There is a good little antique store just to the left. Nearby is also Freestone Vineyards, affiliated with Joseph Phelps, in Napa. Noted for Sonoma Coast Pinot Noir. Look for the Freestone Vineyards tasting room for the turn toward the bakery, the antique shop, and, beyond these, the town of Freestone itself.

For excellent views over the Pacific Ocean, try going from the coast back toward the inland towns of Sebastopol or Santa Rosa via Coleman Valley Road. A narrow windy road that some seem to find scary (it's not really) takes you through hills overlooking the sea and the coastal cliffs.

For art lovers, the Ren Brown Collection (1781 Coast Hwy 1, Bodega Bay, CA 94923, 875-2922) offers an excellent selection of modern Japanese prints and prints by various northern California artists, along with other art objects and antiques. Well worth a visit. Just across the way from Ren Brown is another gallery that specializes in California artists.

The bird in the photo: Common loons, North-end Bodega Harbor, Bodega Bay, June 24, 2011

All photos by the author, unless otherwise indicated

Maps by Google Maps